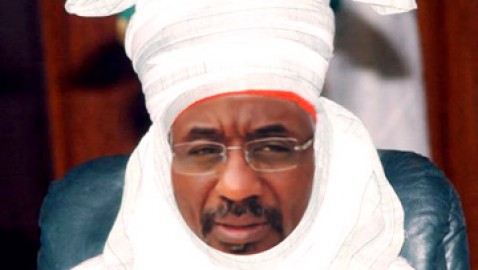 The Emir of Kano and former Governor of the Central Bank of Nigeria, Sanusi Lamido Sanusi 11, has said the report of the PricewaterhouseCoopers on the missing $20 billion oil money does not in anyway exonerate the Minister of Petroleum Resources, Deziani Alison-Madueke.
Rather, Sanusi said the report further established that the gap between the company's oil revenues between January 2012 and July 2013 and cash remitted to the government for the same period was $18.5 billion.
According to him: "Of the $18.5 billion in revenues that the state oil company did not send to the government, about $12.5 billion appears by my calculations to have been diverted.
"And this relates only to a random 19-month period, not the five-year term of Mr (Goodluck) Jonathan, the outgoing president."
Sanusi has, therefore, enjoined the incoming administration of General Muhammadu Buhari to pursue the lines of investigation contained in the PricewaterhouseCoopers report.
Recall that a forensic audit conducted by the PricewaterhouseCoopers at the instance of the Federal Government indicted the management of the Nigerian National Petroleum Corporation under the supervision of Alison-Madueke for various questionable transactions.
The report in part recommended that the Nigerian Petroleum Development Company, the upstream subsidiary of the NNPC, should refund about $1.48 billion to the Federation Account.
Emir Sanusi's position that the issue should not be laid to rest yet was contained in an article he wrote titled: "Unanswered questions on Nigeria's missing oil revenue billions."
It was published in the Financial Times of London.
He posited: "The lines of investigation suggested by this audit need to........Read more
source:theeagleonline.com